Resources
Video Tutorials
QDS™ Tutorial videos will help guide you through QDS™ Development, questionnaire administration, and data management using step-by-step demonstration to get you started. While these tutorials should be especially beneficial to our newer users, more experienced users may also find some useful tips and tricks.
The QDS™ Video tutorials below are organized by QDS™ Module - Design Studio, ACASI, CAPI, QDS-Web™, and Warehouse Manager.
See QDS™ Online help at http://www.novaresearch.com/products/QDS/QDSHelp50 or email support@novaresearch.com for additional assistance.
---
Design Studio
QDS Design Studio: Design Studio 101
QDS Design Studio: Getting Started with the QDS Design Studio
QDS Design Studio: Adding an Information Element
QDS Design Studio: Using Section Headers and Format Elements
QDS Design Studio: Adding Data Elements with Yes/No and Gender Response Types
QDS Design Studio: Adding Data Elements with Pick One Type Responses
QDS Design Studio: Adding Data Elements with Check Each Type Responses
QDS Design Studio: Adding a "Specify Other" Response for a Check Each Response Type Question
QDS Design Studio: Adding a "Specify Other" Response for a Pick One Response Type Question
QDS Design Studio: Adding Data Elements with Ranking Type Responses
QDS Design Studio: Adding a Skip Element and Skip to a Marker
QDS Design Studio: Adding an Edit Element with Looping Back
QDS Design Studio: Adding an Edit Element to Conditionally Present Additional Elements
QDS Design Studio: Adding an Edit Element to Link to an External File or URL
QDS Design Studio: Adding an Edit Element to Launch a Second Questionnaire and Share Variables
QDS Design Studio: Questionnaire Options
QDS Design Studio: Testing Using the Preview Tool in the QDS Design Studio
QDS Design Studio: Using Skip-Edit Check Report
QDS Design Studio: Questionnaire Documentation
QDS Design Studio: Working with Multiple Languages
---
ACASI
QDS ACASI: ACASI Survey Demonstration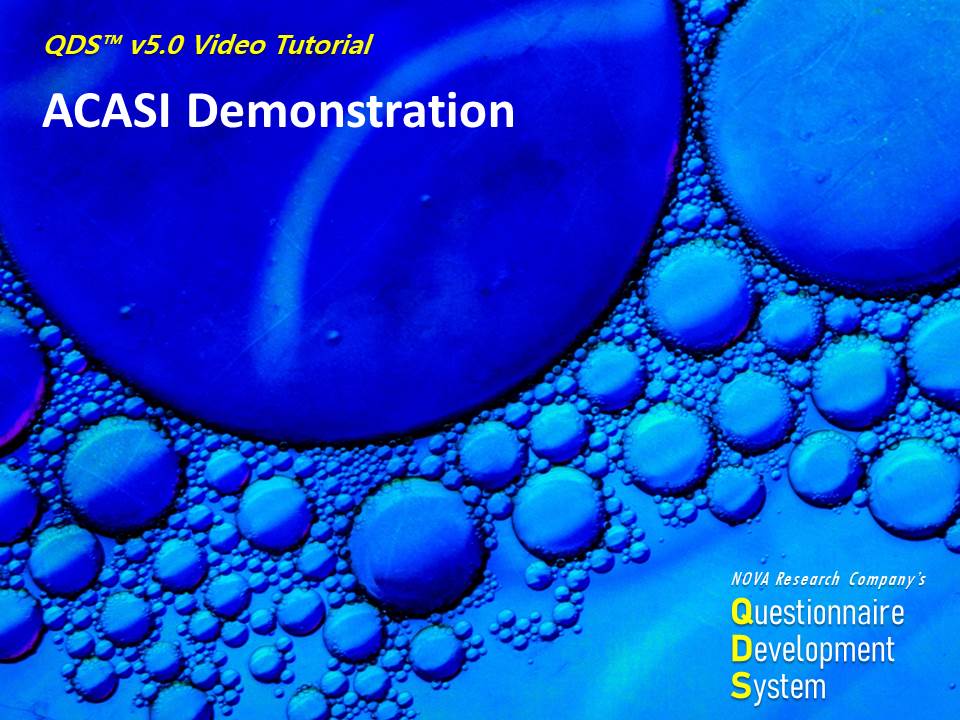 This video demonstrates building a sample ACASI survey, setting build options (1:14), administering a survey (4:08), and viewing ACASI data (13:20).
View Video
QDS ACASI: ACASI Survey Demonstration with AT&T Natural Voices®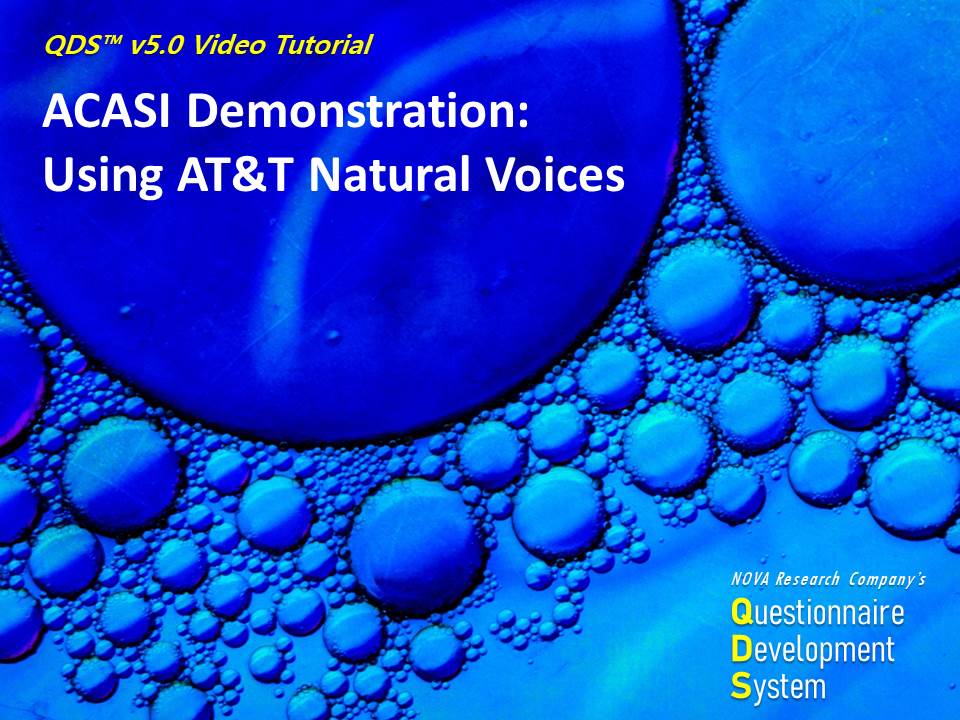 This video illustrates different types of responses in a sample ACASI survey using the AT&T Natural Voices® Crystal voice (included with QDS).
View Video
QDS ACASI: Interrupting and Resuming an ACASI Interview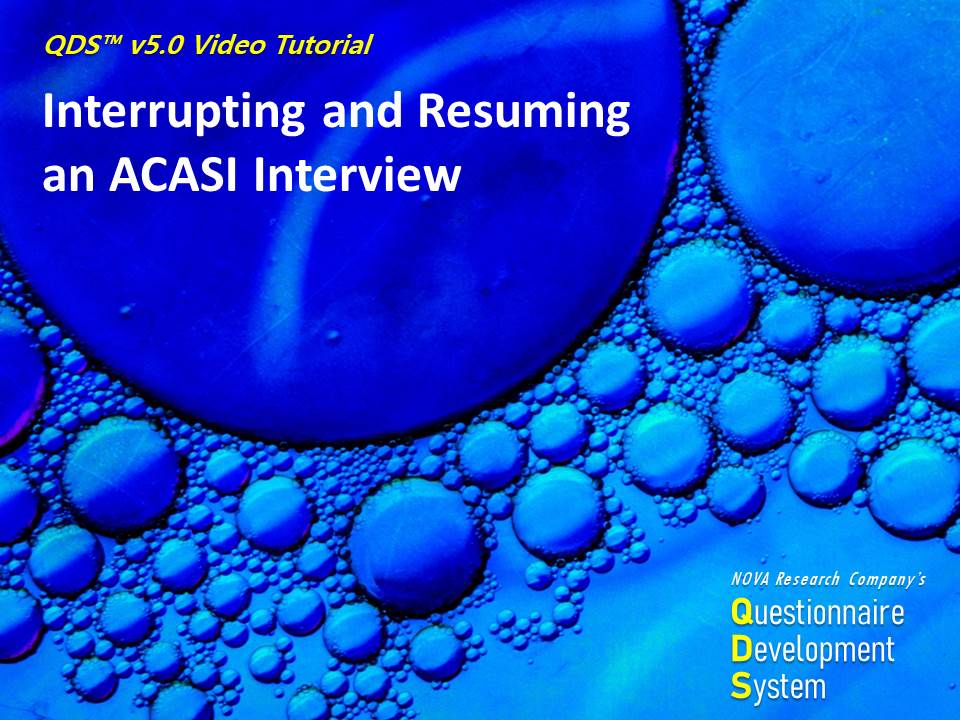 This video demonstrates how to (a) start an ACASI survey (2:41), (b) interrupt and resume an interview (3:26), and (c) view data from interrupted/resumed surveys in the Warehouse Manager (8:37).
View Video
---
CAPI
QDS CAPI: CAPI Survey Demonstration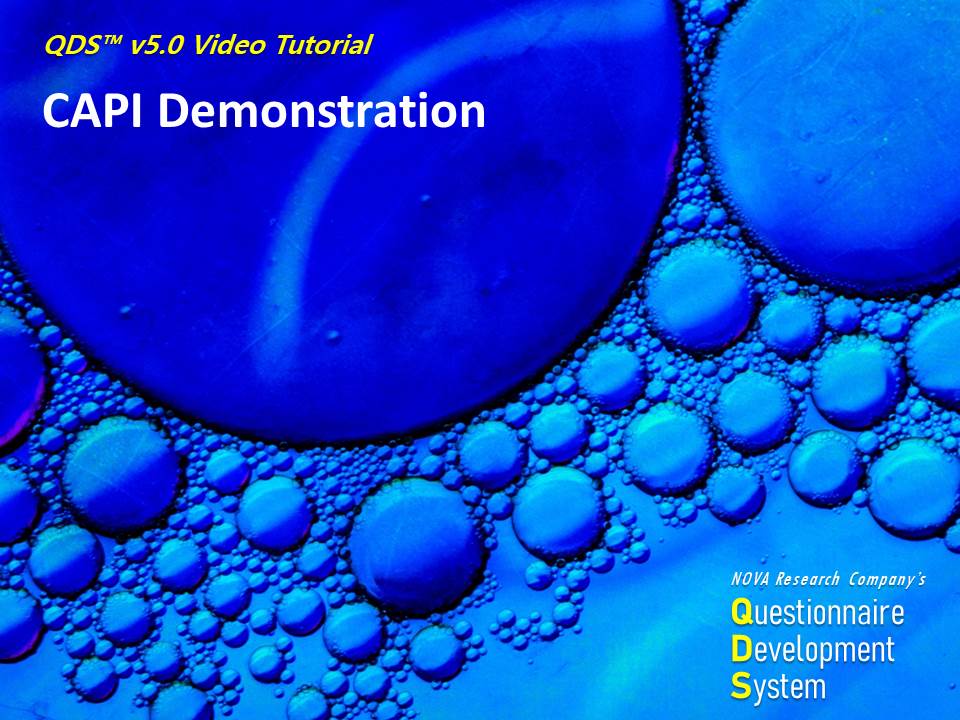 This video demonstrates: (a) building a CAPI survey, (b) setting build options (1:30), (c) administering a survey (3:30), and (d) viewing the CAPI data file (12:48).
View Video
QDS CAPI: Interrupting and Resuming a CAPI Interview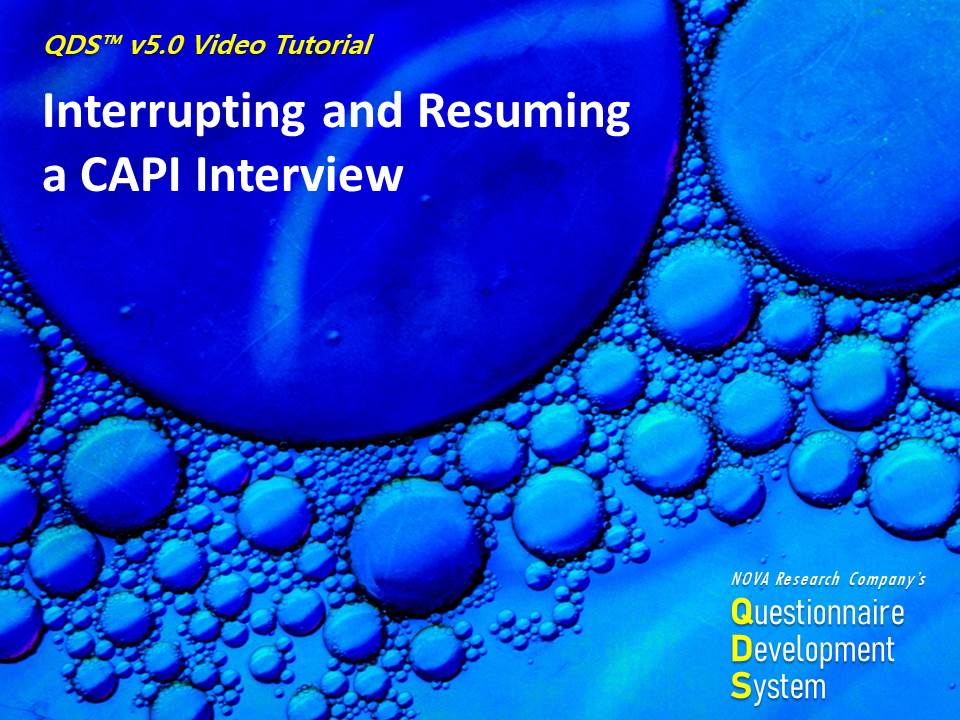 This video demonstrates: (a) starting a CAPI survey (2:59), (b) interrupting and resuming an interview (3:46), and (c) viewing data from interrupted/resumed surveys in the Warehouse Manager (10:05).
View Video
---
QDS-Web™
QDS-Web™: Survey Demonstration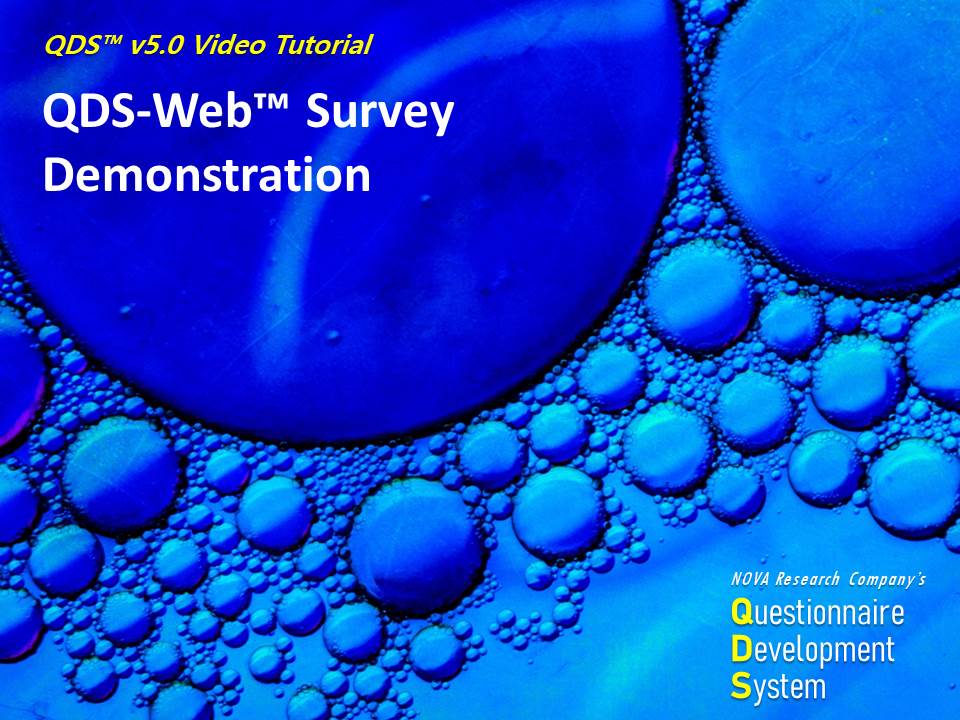 This video demonstrates a QDS-Web™ survey showing different types of questions and responses.
View Video
---
Warehouse Manager
QDS Warehouse Manager: Working with Data Files in the QDS Warehouse Manager
QDS Warehouse Manager: Modifying Data in the QDS Warehouse Manager
QDS Warehouse Manager: Working with Multiple Versions
QDS™ Warehouse Manager: Working with QDS-Web™ Data Files and Management