Format Element Tab
Format Elements allow you to reset certain options during the course of an interview, including question numbering, size of question text box and standard buttons, and some CAPI/ACASI screen colors. You can also add instructions for disabling the Previous Question button on next Data Element to prevent a respondent from going back during a CAPI/ACASI interview.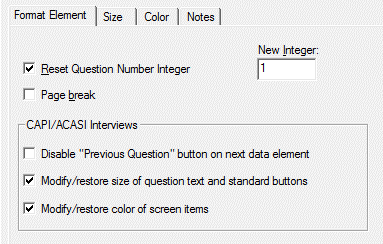 Adding Format Elements
Select Edit|Insert and choose Format or select from the toolbar.
Select appropriate options (see below)
Format Element Options
<![CDATA[ ]]>Reset Question Number Integer: Check this box to reset question numbering. If checked, the New Integer box will be enabled where you may enter a new number. This applies to paper, computer-administered, and web-based interviews.
<![CDATA[ ]]>Page break: Check this box to insert a page break in paper questionnaires. This option only applies to paper interviews.
CAPI/ACASI Specific Options
<![CDATA[ ]]>Disable "Previous Question" button on next data element: When this option box is checked, the Previous Question button will be disabled on the next Data Element. If there are any intervening Information Elements, the Previous Question button will also be disabled on these. Keep in mind when using this option that neither staff or respondent will be able to go back in the interview at that point.
<![CDATA[ ]]>Modify/restore size of question text and standard buttons: When this option box is checked, the Size tab will be enabled. Go to the Size tab to change the size of space for questions, the shape of standard buttons, or restore to system defaults from this point forward during the interview.
Tip: Interview-wide options can be set under Options|Build.