Using Substitution Tokens as Response Choices
You can use substitution tokens on response sets so that respondents can select a choice from previously entered responses. For example, you could have multiple questions asking for the names of friends, followed by a question asking which of these is their best friend.
The questions asking for friend's names could be a series of Data Elements with Text type responses, asking "Please enter the name of one of your friends", with variable names of FRIEND1 TO FRIEND5.

This would be followed by a Data Element with a Pick One response type, asking "Who is your best friend?"

On the Response Set tab, you would enter a substitution token for each response choice with one of the 'friend' questions (variables FRIEND1 TO FRIEND5), such as:
&[FRIEND1]
&[FRIEND2]
&[FRIEND3]
&[FRIEND4]
&[FRIEND5]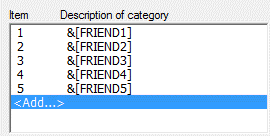 On the ACASI, CAPI, or Web Module screen, the names that were entered for FRIEND1 to FRIEND5 will appear on the five responses buttons, such as:
Bob
Amy
John
Tom
Joe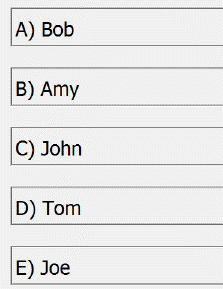 If you anticipate blank responses, you can add in Edit Elements following the Data Element to disallow the participant from selecting a blank response button.