Read Passwords
Data collected using Read password encryption requires the password to read/export data in the Warehouse Manager or to export data using the QDA utility; see Adding Read Passwords in the Warehouse Manager. The password is also necessary for all data collection (CAPI, ACASI, and DE*). A Modify password may be optionally added.
Read password encryption provides a greater level of privacy than default encryption since other QDS users will not be able to view or export your data from the Warehouse Manager without supplying the correct password.
The password must be supplied by each Windows user account before conducting automated interviews with a read password protected questionnaire. If a password was not previously installed by that user then the QDS interview module will ask for it.
Warning: Always keep a separate record of your Read password. If the password is lost, it will NOT be possible for the files to be decrypted by you or NOVA.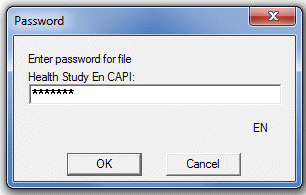 Changing Windows Passwords
QDS password encryption is linked to your Windows account information. If you ever need to change your Windows password, this should be done by one of the following methods, depending on your Windows version/device type:
Enter Ctrl+Alt+Del and select Change a Password option (desktop or laptop), OR
Go to the Settings App, Accounts, Sign In Options, select Password option (Windows 8/10 tablet)
If a Windows password is changed in a different manner (e.g. by a password reset), it may block access to any existing encryption containers and disallow you from installing the Read Password.
Note: Not Applicable for data collected with the Web Module.