Translating System Keywords
System keywords must be translated for all needed languages. These are terms that QDS uses in both paper and automated interviews, for example, "Don't Know", "Next Question", or "Response is required".
Tip: To use text other than the system default, you may edit the default English translations. For example, if you wish to use the text "Decline" rather than "Refuse to Answer", select Language|Translations and edit the English translations.
Updating System Keywords
Select Language|Translations.
Select the language for which you need to add translations.
Click Edit.
Select a translation category (see Translation Categories).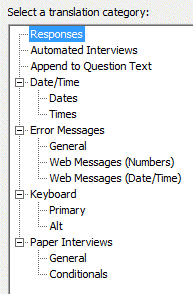 Enter appropriate keyword translations for all items in your questionnaire. English translations are displayed by default; replace these with your translations or alternate text for English.
Click OK when complete.
Translation Categories
Responses
Automated Interviews
Append to Question Text
Date/Time
Error Messages

General
Web Messages (Numbers)
Web Messages (Date/Time)

Keyboard
Paper Interviews
System Keyword Defaults
Each translation category field includes default English text which can be changed by replacing the default.
Responses

Automated interviews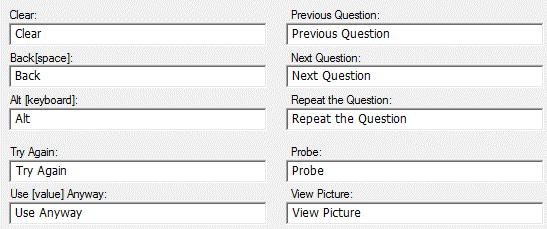 Append to Question Text

Date/Time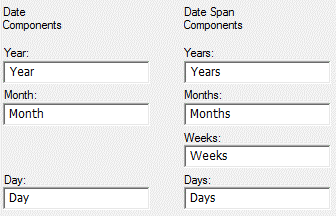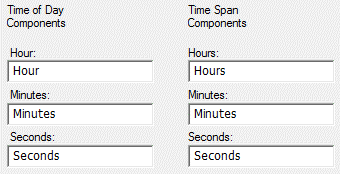 Error Messages (General)
Error message text supports Bold, Italics, and Underline formatting by selecting the appropriate button or using the keyboard shortcuts (Ctrl+B, Ctrl+I, Ctrl+U) for:
A response is required
Date entered is invalid
Number is too small
Number is too big
Too few ranked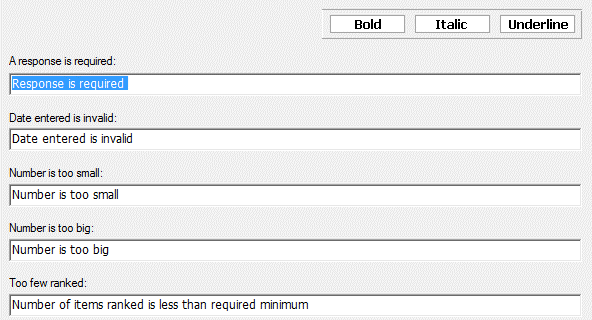 Web Messages (Numbers)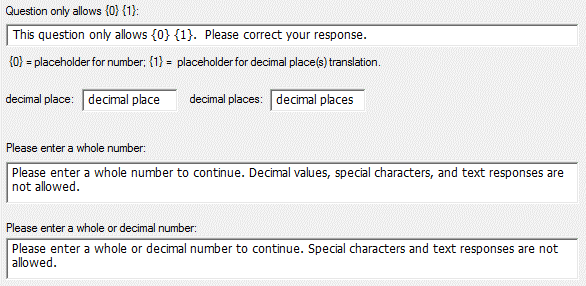 Web Messages (Date/Time)

Keyboard
Specify the characters that should appear on the standard keypad. Asian characters cannot be used in the on-screen keyboard. Default: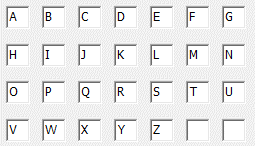 Alt Keyboard tab
Specify the characters that should appear on the alternate keypad. Default: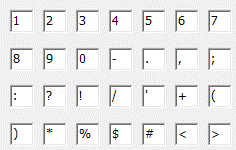 Tip: If all the default characters letters are removed from the Keyboard and Alt Keyboard, the keypad will not appear on the screen.
Paper Interviews