National Institute on Aging (NIA) Science Writing
Client
National Institute on Aging, Division of Neuroscience (NIA DN/NIH)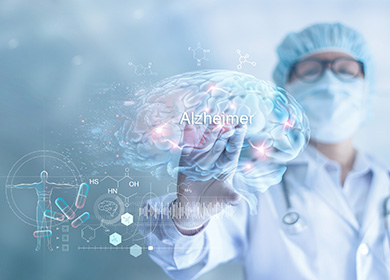 Challenge
The NIA Division of Neuroscience supports initiatives focused on genetics of Alzheimer's disease (AD). The Alzheimer's Disease Sequencing Project aims to identify new genes involved in AD, identify gene alleles contributing to increased risk for or protection against the disease, provide insight as to why individuals with known risk factor genes escape from developing AD, and identify potential avenues for therapeutic approaches and prevention of the disease. The Alzheimer's Disease Genetics Consortium (ADGC) conducts genome-wide association studies to identify genes associated with an increased risk of developing late-onset AD. The Consortium for Alzheimer's Disease Sequencing Analysis (CASA) analyzes whole-exome and whole-genome sequence data generated from subjects with AD and elderly normal controls within the ADSP. NOVA provides scientific and meetings logistical support to the NIA ADSP and other AD-related initiatives. NOVA science writers provide support for managing and scheduling weekly, biweekly, monthly, and ad hoc working group video conferences on a quick-turnaround basis and draft notes for each conference.
NOVA Approach
For each video conference, an assigned NOVA note taker attends, takes notes of, and prepares a summary of presentations, discussions, and decisions, and documents new action items and status of action items from previous events. Event summaries follow an approved format, with the name and date of the video conference, list of participants, new action items, status of previous action items, and summary of discussion aligned with the video conference agenda. NOVA logistical support staff and science writers also provide annual consortium meetings planning and logistical onsite support, attend, audio record and take notes on approximately 30 45-minute scientific presentations on the NIH campus, and prepare detailed summaries. Notes taken capture any substantive differences between pre-meeting descriptions and what is presented as well as key ideas from discussions and Q&A portions of each presentation. After each meeting, NOVA's writer prepares clean notes, referring to the audio recording and presentation slides, as needed. The resulting report is edited for clarity, appropriate tone, and adherence to quality writing standards. An electronic copy of the report is submitted to NIA within three business days.
Results
NOVA has provided scientific writing support to more than 1,000 NIA scientific video conferences and program meetings.
NOVA has prepared process documents to ensure smooth, efficient handling of important project materials. For example, NOVA prepared a document outlining processes for tracking and posting video conference notes that includes description of each process step; timeline for submission of draft notes, review, revision, and posting; and a list of co-chairs for respective work groups.
Support is provided by NOVA writers for development of monthly ADSP reports to Dr. Francis Collins, Director of the National Institutes of Health. These reports reflect progress and accomplishments of the various work groups for the previous month, such as samples processed, and manuscript submissions/acceptances/publications.
NOVA writers provide technical writing support for longer face-to-face meetings (e.g., ADSP annual meeting, ADGC annual meeting) and groups that meet for short periods throughout the year (e.g., Machine Learning Focus Group).