Small Business Innovation Research (SBIR) Outreach to Small Disadvantaged Businesses and Woman-owned Small Disadvantaged Businesses
Client
Office of Extramural Research/National Institutes of Health (OER/NIH)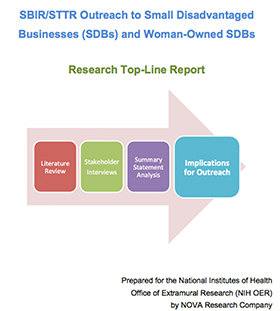 Challenge
Data suggested that the trend for Small Business Innovation Research/Small Business Technology Transfer Research (SBIR/STTR) applications and awards from entities that are woman-owned and/or socially disadvantaged had declined over the study's previous ten years. The National Institutes of Health sought to increase numbers of underrepresented populations participating in the SBIR Program by developing a better understanding of current limitations and challenges faced by applicants. NOVA was contracted to: 1) develop a national database of socially disadvantaged businesses (SDBs) and woman-owned socially disadvantaged businesses (WO-SDBs) in the biomedical, behavioral, or related sciences possessing potential skills and abilities for submitting SBIR applications, 2) describe issues contributing to success or failure in seeking and receiving SBIR awards, 3) conduct a systematic literature review related to needs and efforts aimed at woman- and minority-owned biotechnology businesses and 4) develop novel strategies for engaging SDBs and WO-SDBs in one or more pilot outreach programs and program evaluation activities.
NOVA Approach
NOVA conducted the following research activities:
Literature Review—Conducted to gain insight into barriers and challenges faced by minority- and woman-owned small business (MOSB, WOSB) NIH SBIR applicants, and discover successful strategies for increasing their participation.
Interviews—Conducted interviews with 32 SBIR stakeholders to: 1) improve understanding of challenges faced by SDBs relative to participation in the SBIR grant program; 2) collect information about current SBIR outreach activities at non-NIH agencies designed to increase engagement; 3) collect information about current technical assistance activities designed to improve SBIR awardees' success; and 4) identify recommendations to improve outreach to and participation by MOSBs and WOSBs.
Qualitative Analysis of SBIR Grant Application Summary Statements—Focused on identifying areas of weakness based on scoring criteria (significance, investigator[s], innovation, approach, and environment) as well as issues with clarity and completeness of application submissions. In addition, NOVA conducted a limited quantitative analysis of application scoring criteria and impact scores to identify additional relevant patterns not brought to light by the qualitative analysis.
Results
Potential Applicant database—consisted of approximately 5,000 email addresses of individuals likely to be women and/or minorities from small businesses who conduct research and development in the biomedical arena. The database included individuals from databases from sba.gov, vetbiz.gov, naics.com, and Query, View, Report (QVR).
Intermediary Organization database—consisted of more than 400 intermediary organizations that could be contacted to assist in amplifying messages to minority- and woman-owned small businesses. The database included organizations gathered from the Green Lining Coalition, State Small Business Development Center contacts, tribal colleges and universities, Historically Black Colleges and Universities (HBCUs), and relevant professional societies.
Based on evaluation activities conducted by NOVA, a matrix of issues was developed that included important programmatic, outreach, and external issues faced by each group with which NOVA interacted.
Using the matrix, NOVA developed a detailed list of outreach implications for each type of issue that NIH could use to reach minority-owned and woman-owned small businesses.