Division of Scientific Equipment and Instrumentation Services (DSEIS) Market Outreach
Client
Office of Research Services, Division of Scientific Equipment and Instrumentation Services/ National Institutes of Health (ORS DSEIS/NIH)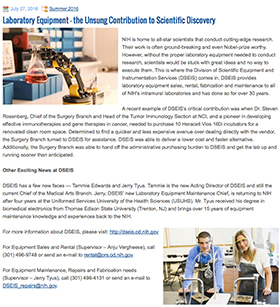 Challenge
To support the NIH intramural research community with acquisition and maintenance needs for its laboratory equipment, DSEIS provides equipment to laboratories through sales, rentals, or rent-to-buy options. DSEIS services also include laboratory equipment maintenance and repair; preventive maintenance; custom fabrication and modification; and equipment installation, testing, refurbishment, and calibration. NOVA's challenge was to develop and implement a marketing and outreach strategy to increase visibility and usage of services provided by DSEIS.
NOVA Approach
NOVA developed a marketing and outreach plan detailing DSEIS marketing outreach goals for the year, identified specific strategies and tactics for achieving those goals, and established measures for evaluating success of market outreach activities. The plan was based, in part, on results of a prior customer satisfaction survey conducted by ORS. NOVA performed the following activities:
Conducted market research
Developed and maintained a schedule of outreach opportunities
Built and maintained customer listservs
Wrote articles highlighting DSEIS services to the NIH intramural community for the

NIH Catalyst, NIH Record, OALM Newsletter,

and

ORS News2Use

Performed strategic communication planning for targeted campaigns to inform customers of the convenience and savings available when utilizing DSEIS.
In addition to these activities, NOVA developed DSEIS Presents—a series of on-campus events that showcase laboratory equipment and instruments available through DSEIS. Each event features a different type of equipment or instrument so that intramural researchers can get "up close and personal" with the tools they need to conduct their investigations.
Results
Several on-campus marketing and outreach events to drive interest and awareness of DSEIS products and services were planned, promoted, and staffed by NOVA.
NOVA achieved all short-term goals identified in the market outreach plan.
NOVA provided DSEIS with tools and measures to capture and track data to assess progress in reaching long-term goals identified in the market outreach plan.
Additional market outreach recommendations to increase DSEIS visibility and use of its services that were beyond the scope of work were provided by NOVA.