Information Needs Assessment of Key Public Stakeholder Groups for NIH Office of the Director (OD)/Office of Communications and Public Liaison (OCPL)
Client
Office of the Director, Office of Communications and Public Liaison/National Institutes of Health (OD OCPL/NIH)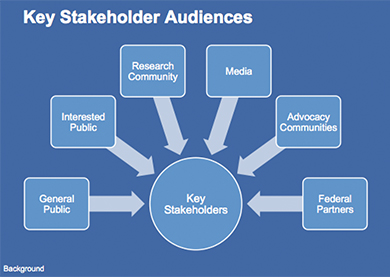 Challenge
The Office of Communications and Public Liaison oversees communications on NIH programs and activities to the public, media, and stakeholder communities. Located in the NIH Office of the Director, OCPL coordinates its activities with communication offices in NIH's 27 Institutes and Centers. OCPL contracted with NOVA to better understand communications needs of key NIH stakeholder groups and to identify effective and efficient ways to meet those needs.
NOVA Approach
NOVA conducted an information needs assessment of key external NIH stakeholder audiences. NIH's ultimate communications goal was to develop effective approaches and tools (e.g., new or different materials or standard operating procedures) to meet current and future information needs of its stakeholder audiences. The needs assessment included key external NIH stakeholder audiences: (a) general public, (b) interested public, (c) research community (including grantees, grant applicants, and institutional officials), (d) media, (e) health and science advocacy communities, and (f) federal partners. OCPL and NOVA developed a multifaceted plan and sought and received Office of Management and Budget (OMB) clearance for surveys and interviews to explore health and science information-seeking behaviors of stakeholders. NOVA also conducted an environmental scan to collect already existing information related to each stakeholder audience.
Surveys—NOVA designed and implemented surveys to obtain feedback from the general public, interested public (i.e., NIH website visitors), and members of the research community on aspects of NIH communication activities.
Interviews—NOVA staff conducted interviews with representatives from the media, federal partners, and advocacy organizations to provide data on how communications needs of audiences are met by NIH. The qualitative research design enabled OCPL to collect unfiltered comments and feedback about NIH communications from these audiences.
Results
Each data collection enabled NOVA to generate important findings on how OCPL could better reach its target audiences.
NOVA developed a PowerPoint presentation describing NOVA's research for OCPL to use in disseminating the information to other NIH Institutes, Divisions, and Centers.
NOVA developed a final report on how to take research findings and apply them to approaches to communicating with NIH stakeholder audiences. The report included a table with detailed descriptions of findings by audience, potential approaches, assignments, and examples of current efforts.