SBIR Drug Abuse Prevention Database
Client
National Institute on Drug Abuse/National Institutes of Health (NIDA/NIH);
Small Business Innovation Research (SBIR) Contract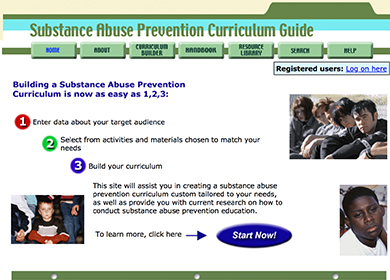 Challenge
Research showed that the most effective drug use prevention programs aimed at children and adolescents include interactive activities (e.g., peer-group discussions) that teach specific skills and educational content and are customized to needs of the target populations. Unfortunately, these principles are not widely incorporated into drug use prevention programs, either because prevention planners are unaware that these activities are more effective than didactic teaching methods or because they do not know how to find, customize, and successfully implement these activities. The aim of this project was to create a tool to guide prevention planners in developing interactive drug use prevention curricula customized to the needs of children and adolescents with whom they work.
NOVA Approach
Phase I of this SBIR was to demonstrate feasibility of incorporating current research findings on drug use prevention into an easy-to-follow guide that would allow practitioners (e.g., teachers) with little drug use prevention experience to create curricula customized for their target populations. During Phase I, the Prevention Activities Handbook: A Practitioner's Guide to Selecting and Implementing Interactive Drug Use Prevention Activities for Children and Adolescents was drafted. The Handbook was nearly 400 pages and comprised five chapters, several appendices, and a Targeted Activities Folder containing needs assessment documents to be used by the practitioner.
Objectives of Phase II of the project were to:
Conduct an expert review of

Handbook

content and revise content accordingly
Build a library of coded interactive activities that could be used by prevention practitioners to create customized curricula
Convert the

Handbook

to an interactive web-based curriculum development guide with an extensive web-based free resources database and dynamic links to vendors offering resources for payment
Focus-group test the interactive website with practitioners
Finalize the web-based Substance Abuse Prevention Curriculum Development Guide for Children and Adolescents version and release it as a commercial Internet product.
Based on expert reviews and an Editorial Board, an interactive web-based Handbook was prepared and evaluated by prevention practitioners in a focus group format. Based on this feedback, the project team finalized the interactive version of the prevention Handbook, which became a commercially available product at http://www.preventioncurriculum.com.
The Prevention Curriculum [Development] Guide Website version guided a practitioner through a needs assessment and then through the activity selection process in putting together a customized curriculum. The Guide also provided the user with an evaluation component designed to determine how successful the curriculum was in meeting objectives of customization and implementation, as well as looking at short-term efficacy in drug use prevention. The online resources database library contained more than 1,000 interactive activities practitioners could obtain and incorporate into their curricula. These activities formed the backbone of the interactive Curriculum Guide, allowing the prevention practitioner to design a curriculum customized to his or her target audience needs and available time and money resources.
Results
The Prevention Curriculum Guide website was successfully launched as a commercial product.