CRCHD Website Design/Deployment/Maintenance
Client
National Cancer Institute/National Institutes of Health (NCI CRCHD/NIH)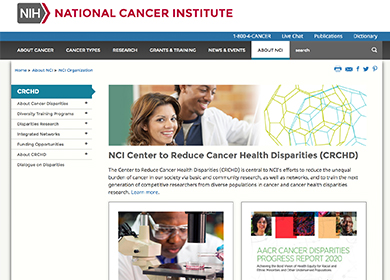 Challenge
Requirements for federal websites and digital services must address many aspects of web design, maintenance, and usability, including accessibility (i.e., Section 508 compliance); security, confidentiality, and privacy; mandatory content; and technology standards. Also, content reviews are necessary to ensure that website content fulfills the program's objectives, aligns with the program's style and design standards, and follows federal plain language guidelines. Content review must assess not only text, but also visual design; for example, inclusion of diverse populations (i.e., age, gender, race/ ethnicity) and engaging, authentic photography. Finally, website usability testing must focus on overall website structure, navigation, layout, nomenclature, and functionality to ensure that information is both conveyed and used by members of primary target audiences. Test findings should inform efforts to improve overall usability, accessibility, and user experience on the website.
NOVA Approach
NOVA developed new content, managed revisions, maintained current content, and supported the NCI client website and its components. NOVA understands the importance of maintaining an up-to-date, comprehensive, accessible, and user-friendly web presence that informs, educates, and engages key audiences, as well as promotes dissemination of NCI research, training programs, products, and other critical health information.
Creating, Updating, and Revising Web Application Content—NOVA's web development and communications staff meet with client staff to discuss goals for each website page to guide efforts in creating new content and updating existing content. NOVA worked closely with the client to determine when and where new content should be added to provide target audiences with accurate information. New web pages and materials developed by NOVA were designed to match the look and feel of the existing client website, always keeping in mind audience satisfaction and usability and Section 508 compliance. Periodic usability testing was conducted based on industry-accepted usability principles to assess audience satisfaction. When updates or revisions to existing content were necessary, NOVA staff ensured that revised content was written properly for target audiences and for the web in general.
Uploading New Materials to the Client Website and Updating Data With New Information—As new materials are developed for the client website by client and NOVA staffs, NOVA staff began testing the materials for Section 508 compliance. After materials have been made Section 508 compliant, they are uploaded to the staging web server for client review of appearance and placement within the website. Following approval, materials are moved to the live website per NCI policies and procedures.
Updating Drop-Down Menus to Reflect Organizational Expansion and Reorganization—As needed, NOVA staff updated drop-down menus and navigation within the website to reflect organizational expansion and reorganization. When possible, NOVA posted updated pages, navigation, and drop-down menus to the staged server to allow the updated website to be launched the same day as any organizational changes were announced to the public.
Advising on Innovative Media Technologies to Aid in Promoting Communication and Dissemination of Information—NOVA web staff stay current with new media and web technologies, and advise the client on new communication and dissemination methods. NOVA web and communication staff met periodically with the client to discuss the state of the field, possible methods for improving content found within the website, and new or innovative ways to promote communication and dissemination of information.
Performing Site Maintenance on a Monthly Basis—NOVA participated in maintaining the client website as needed. Activities include reviewing website content to ensure material was current and testing that all internal and external links work properly. This review entailed examination of each page within the website using several widely accepted web browsers. In addition to visual review of web pages, NOVA web staff used automated tools within their integrated development environment to check all internal and external links within the site. Following automated and visual review, NOVA developed a report that detailed issues found within the site and worked with the client to resolve issues in a timely manner.
Results
NOVA website and communications staff supported the client's website for more than a decade and consistently got high marks from both NCI website review staff on 508 compliance and from targeted audiences in that they were able to quickly and efficiently find information they need relative to the client's grants and programs.