SBIR QDS™ Development, Deployment, Enhancements
Client
National Institute on Drug Abuse/National Institutes of Health (NIDA/NIH)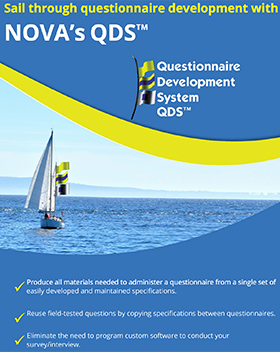 Challenge
In 1987, NIDA initiated the National AIDS Demonstration Research (NADR) Project to develop and assess intervention strategies for reducing high-risk behaviors associated with HIV transmission among injecting drug users (IDUs) who were not enrolled in drug treatment. The goal of the NADR Project was to learn how best to intervene to reduce spread of HIV among active IDUs and their sexual partners. Effectiveness of NADR interventions, as measured by pretest/posttest design, demonstrated statistically significant and clinically meaningful decreases in HIV-related risk behaviors, including frequency of injecting drugs, use of non-injected drugs, use of borrowed injection equipment, and number of sexual partners. As a result of working on this project, NOVA identified an urgent need for researchers to be able to administer their surveys (often long, complex instruments with a variety of question types and complicated skip patterns) without the need for lengthy computer programming and other information technology specialists to assist in data collection, entry, and verification. Also, HIV intervention surveys required asking many sensitive questions about drug use and sexual behaviors where truthfulness was a critical criterion for measuring behavior changes. Based on these needs, NOVA developed, through several Small Business Innovation Research (SBIR) awards, QDS™ for use as a turnkey data collection and data management solution for researchers.
NOVA Approach
Design Studio—Allows users to define questionnaire specifications, including all content and settings for a survey instrument (i.e., question text, instructions, branching instructions, consistency checks, error checks).
Data Entry Module—Used to key data initially collected on a paper form. The Data Entry module supports double entry (also called key verification or blind double keying) for increased accuracy and quality assurance.
CAPI (Computer-Administered Personal Interview)—Allows interviewers to conduct face-to-face interviews using a desktop, laptop, tablet, or smartphone. The device displays one question at a time and allows the interviewer to enter responses in real time using a keyboard, mouse, or touch screen. Entering data into the computer at the time of data collection eliminates the need for a separate data entry step. The CAPI module allows the developer to include information/probes for the interviewer.
ACASI (Audio Computer-Administered Self Interview)—Allows respondent to be "interviewed" by desktop, laptop, tablet, or smartphone. The device displays one question at a time and allows the respondent to enter responses using a keyboard, mouse, or touch screen. Users may choose to have the computer read questions and possible responses to the respondent using a text-to-speech engine or recorded .WAV files (recorded actual voice files). Entering data into the device at the time of data collection eliminates the need for a separate data entry step. Because no interviewer is required to conduct an ACASI interview, use of ACASI allows a single staff member to supervise multiple interviews. ACASI is also useful for providing a private setting for collecting sensitive information.
QDS-Web™—QDS-Web™ was developed to allow researchers to design, develop, and deploy complex research survey instruments on the Internet. To learn more about QDS-Web™ please visit the QDS-Web™ website.
Warehouse Manager—Once data are collected/recorded using one or more of the Data Collection modules, users import data into the Warehouse Manager for data management and to export data for analysis. The Warehouse Manager allows users to track status of collected data and, for multisite studies, whether each completed questionnaire has been shipped to and received by the Data Coordinating Center. The Warehouse Manager also allows export of QDS™ questionnaire data to SPSS, SAS, Stata, or MS Access database formats for analysis and reporting.
Results
More than 3,000 QDS™ modules have been sold, worldwide.
The Automated Computer-Assisted Self Interview module met researcher needs for collecting sensitive personal information.
QDS™ ability to quickly build surveys in different modes of administration met researcher needs for conducting research in different venues (e.g., bars, jails, treatment centers).
QDS™ is used by academic and government behavioral researchers for complex surveys.
QDS™ is one of very few survey tools available to administer surveys in any mode of administration, including web interviewing, from specifications in a single Design Studio.
QDS™ is used by state/county health departments nationwide for HIV surveillance monitoring.
QDS™ is being enhanced continually to stay current with changing interviewing requirements.