National Institute of Allergy and Infectious Diseases (NIAID) National HIV Vaccine Research Education Initiative (NHVREI) Key Influencer Survey
Client
National Institute of Allergy and Infectious Diseases/National Institutes of Health (NIAID/NIH)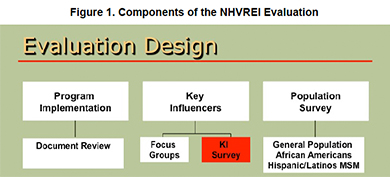 Challenge
NHVREI was designed to address challenges related to mistrust and disinterest regarding HIV vaccine research. The Initiative was implemented according to the theory that ongoing community dialogue with trusted key influencers would allow accurate messages regarding HIV vaccine research to be heard by community members who might otherwise disregard the information. The project's objective was to diffuse accurate information about HIV vaccine research from a group of early adopters/key influencers to their communities through social networks. NHVREI engaged key influencers at three levels. Partnership programs provided the most intensive contact, in which key influencers were funded and trained by the NHVREI contractor to encourage ongoing dialogue between HIV vaccine researchers and African-American, Hispanic/Latino, and men who have sex with men (MSM) communities. Community outreach/collaboration occurred through NHVREI staff contact with advisory groups and influential organizations, as well as through partner contacts with community collaborators and peripheral staff. Broad message dissemination occurred via conference presentations and attendance, distribution of printed materials, Internet presence, and other forms of media outreach. NIAID contracted with NOVA Research Company to evaluate the NHVREI implementation. The Key Influencer Survey was one of several evaluation activities conducted by NOVA. Goals of the Survey were to: (1) investigate whether contact with NHVREI was associated with increased knowledge, positive attitudes, and actions supportive of HIV vaccine research; and (2) provide information needed to improve quality of future programs.
NOVA Approach
The Survey was designed to measure respondents' opinions about HIV vaccine research along a continuum of support. Survey items were designed with input from HIV vaccine research experts, stakeholders, and community leaders. The survey, fielded as an online instrument, took about 20 minutes to complete.
Potential respondents were identified based on several levels of NHVREI contact. The NHVREI implementation contractor provided information about partners, a high-intensity contact group recruited in locations where HIV vaccine clinical trials were conducted. Information about collaborators (e.g., NHVREI Network staff, advisory group members, community collaborators) was obtained from NHVREI staff, partners, and Internet searches. Finally, a "match" group was identified through matching previously identified key influencers working at the local level with individuals in similar roles within similar organizations in cities without HIV vaccine trials. Sampling procedures yielded 793 individuals who were sent an email and/or letter from NIAID requesting their participation in an online survey related to HIV vaccine research. As an incentive, a unique coupon code for Amazon.com was provided upon completion of the Survey. Follow-up via email, postal service, FedEx, and telephone was attempted until the response rate was as high as could practicably be achieved.
Results
Information was collected from 546 key influencers, representing an overall response rate of 69 percent. Comparisons between collaborators and matches supported the idea that information and positive attitudes had been diffused from NHVREI staff and partners to collaborators. After adjusting for social networking, it was found that collaborators were more likely than matches to report higher levels of:
Knowledge regarding HIV vaccine research
Trust in safety provided by clinical trial procedures
Efficacy with respect to increasing community support for HIV vaccine research
Willingness to take action supporting HIV vaccine research
Supportive actions in both personal and work spheres.
Collaborators and matches did not differ with respect to respondents' assessment of barriers related to vaccine development (including perceived conspiracies related to discrimination or profit motives) or assessment of the social environment related to improving support for HIV vaccine research.