Program Evaluation for NCI Center to Reduce Cancer Health Disparities Patient Navigation Research Program (PNRP)
Client
National Cancer Institute, Center to Reduce Cancer Health Disparities/National Institutes of Health (NCI CRCHD/NIH)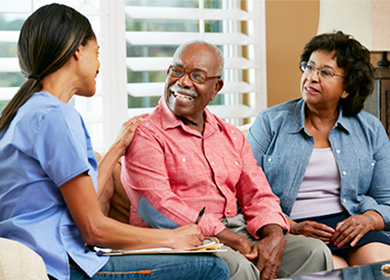 Challenge
The purpose of the Patient Navigation Research Program (PNRP) was to develop interventions to reduce time to delivery of standard cancer care services after identification of an abnormal finding from a cancer detection procedure. These interventions addressed patient access barriers to quality, standard cancer care in a cost-effective manner. NOVA's primary objective was to evaluate patient navigation interventions that attempted to reduce time from an abnormal finding from an early-detection cancer screening to delivery of quality, standard cancer care among racial/ethnic minority and underserved populations, and to identify and document best practices and lessons learned.
NOVA Approach
NOVA developed and implemented a comprehensive program evaluation plan to facilitate evaluation of the PNRP. The plan included (1) identifying and delineating a set of core data elements needed to be collected to measure progress toward the purpose, goals, and objectives of the PNRP; (2) preparing a logic model, conceptual framework, and core data elements for the evaluation; (3) annually assessing the extent to which PNRP grantee sites were achieving PNRP goals and objectives and the quality of their accomplishments; (4) developing standard operational procedures for data collection, data management, protocol adherence monitoring, and PNRP program evaluation; (5) collecting data and information (quantitative and qualitative) and performing analyses of these data for the PNRP program evaluation; (6) analyzing data and information on intervention (experimental) and control groups to determine the extent to which PNRP had accomplished or was accomplishing its goals and objectives; (7) providing/convening a NOVA Institutional Review Board (IRB) for review and approval of data collection and data management activities involving protection of human research subjects participating in the PNRP cooperative agreement program, including any special data collected by NOVA in association with its program evaluation; (8) performing a cost-effectiveness analysis of the overall program; and (9) providing assistance and co-authoring publications of results of the PNRP evaluation, including preparation of draft and final manuscripts, graphics, and presentations.
Results
Patient navigation increased rates of resolution of abnormal cancer screening findings and decreased time typically taken for patients to receive a diagnostic resolution.
Patient navigation increased rates of treatment initiation among patients who typically failed to begin treatment within 90 days of a cancer diagnosis.
Navigated patients reported improved quality of life and increased satisfaction with the healthcare system/cancer care compared with non-navigated patients.
Many patients with cancer identified financial problems and medical/mental health comorbidities as main barriers to healthcare access, and patients with abnormal screens identified language/interpreter issues as their main barriers.