Administration for Children and Families (ACF) Health Profession Opportunity Grant (HPOG) Annual Grantee Meetings
Client
Administration for Children and Families, Office of Family Assistance (ACF OFA)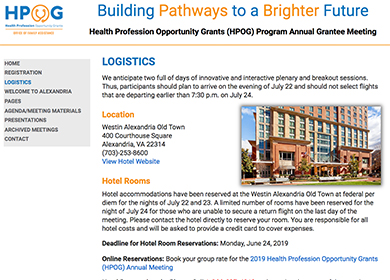 Challenge
The Health Profession Opportunity Grants (HPOGs), administered by the Department of Health and Human Services (DHHS) ACF OFA, were created to provide education and training to Temporary Assistance for Needy Families (TANF) recipients and other low-income individuals for occupations in the healthcare field that pay well and are expected to either experience labor shortages or be in high demand. In September 2015, OFA awarded approximately $72 million in grant funding to 32 organizations located across 21 states. Grantees include four state government entities, seven workforce system agencies, ten institutions of higher education, six community-based organizations, and five tribal organizations. HPOG grantees must agree to work cooperatively with ACF-sponsored technical assistance and monitoring, including participating in meetings and technical trainings. NOVA was contracted to provide logistical support and expertise for meetings and other technical assistance events for the HPOG program. NOVA provided a broad range of pre-meeting, onsite, and post-meeting planning and technical support for annual meetings, roundtable workshops, and virtual events.
NOVA Approach
HPOG grantees are required to attend an annual meeting and one roundtable meeting each program year plus additional virtual affinity group calls. OFA plans a total of three or four roundtable meetings per year; one-third or one-quarter of the grantees attend each roundtable. This keeps the size of roundtables to a manageable number of attendees and optimizes participation and outcomes. NOVA provided subject matter expert (SME) support to facilitate grantee training and technical assistance.
NOVA provided comprehensive travel and meeting logistics support, including pre-meeting, onsite, and follow-up services. Working closely with the OFA Contracting Officer's Representative and other HPOG staff, NOVA identified potential locations for annual and roundtable meetings. NOVA negotiated a contract with the selected venue and made all logistical arrangements, including room setup, audiovisual services, and sleeping room reservations. In addition to venue logistics, NOVA handled all pre-meeting logistics with attendees. NOVA worked with OFA to identify and retain SMEs to present to and train grantees and to facilitate sessions at the annual and roundtable meetings. NOVA prepared SME consultant and institutional agreements and then worked closely to support SMEs in fulfilling requirements and deliverables on time and within budgets. NOVA developed resources for web-based registration, including Section 508 compliance of electronic materials. The registration website was prepared in conjunction with OFA staff and included all necessary information required for participants to register for and attend the meeting, including venue information, travel information, and meeting content material (e.g., presentations). In addition, the registration website facilitated management of registration by automating email notifications, including emails for save-the-date, registration, registration reminder, and ad hoc emails that needed to be sent to grantees. Further, an administrative tool allowed NOVA's meeting staff to develop regular registration reports to send to OFA for review. Meeting materials such as directional signs, name badges, table tent cards, and handouts (e.g., agenda) were produced by NOVA and distributed at the meeting. NOVA staff ensured that meeting participants completed and returned meeting evaluation forms. NOVA provided onsite support to assist with registration and ensure that all audiovisual requirements were met. Following the meeting, NOVA reimbursed supported travelers, prepared meeting-related expenditure reports, and analyzed and prepared an evaluation report based on completed meeting evaluation forms.
Due to the COVID-19 pandemic, NOVA needed to quickly pivot to an all-virtual environment to provide HPOG grantee logistics support for the Annual Grantee Meeting and Roundtable meetings. NOVA identified virtual event platforms most appropriate for each event and worked closely with OFA staff to develop programs that make the most of the tools offered by virtual event platforms. This included reimagining how to run the Annual Grantee Meeting and Roundtable meetings to encourage engagement with attendees to maximize the effectiveness of the training sessions.
Results
NOVA supported annual HPOG grantee meetings attended by more than 150 HPOG grantees, ACF staff, and subject matter experts.
Grantee roundtable meetings were attended by 30-45 HPOG grantee staff and held at various hotel venues around the country, supported by NOVA staff.
NOVA supported virtual affinity group meetings for Program Directors, Job Developers/Employment Specialists, and Case Managers.
NOVA completely revised several grantee meetings to fit a virtual environment.
NOVA initiated a new Affinity Group series to assist Program Directors in dealing with COVID-19-related issues in their workplace.