Bio: Peggy L. Young, MS
Position
Founder and President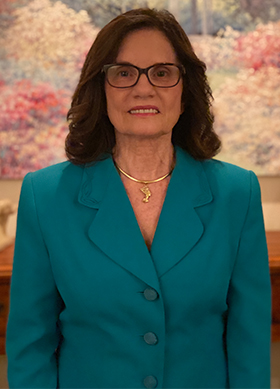 Responsibilities
As President, Ms. Young is responsible for ensuring the timely delivery of high-quality products and services on behalf of NOVA clients and maintaining client satisfaction. She provides quality review of most NOVA products before delivery to clients and works collaboratively with NOVA's project managers to ensure allocation of resources to meet client needs.
Education
Biochemistry, MS, University of California at Santa Barbara
Biology/Chemistry, BS, Juniata College, Huntingdon, PA
Peggy's Story
Peggy Young began her biomedical career as a research scientist at Riker Pharmaceutical Laboratory, shortly after which she became a Staff Research Associate at the University of California at Los Angeles (UCLA) Brain Research Institute, where she worked for more than a decade. She conducted research on use of cultured hepatoma cells as a model system for studying the enzyme phenylalanine hydroxylase, which when deficient at birth results in irreversible mental retardation by the age of one year. Additionally, she managed the tissue culture lab, maintained laboratory records, performed computer data analyses, supervised laboratory assistants, aided in manuscript preparation, and taught graduate students the principles and techniques of cell and tissue culture. Following a decision to move her family to Washington, DC, she accepted a Research Associate position at the National Cancer Institute's (NCI's) Frederick Cancer Research Facility (now NCI Frederick), where she designed protocols, performed laboratory experiments, analyzed data, and prepared manuscripts. Her primary project concerned the structure, function, and regulation by drugs and environmental factors of the proteolytic enzyme, plasminogen activator, in normal versus malignant human cells in culture. She is co-author of over 20 scientific publications in peer-reviewed journals.
Peggy left the laboratory environment to work in the biomedical consulting field in the 1980s. Among other accomplishments, she supported the congressionally mandated Interagency Task Force on Environmental Cancer and Heart and Lung Disease comprising 13 health agencies for the Environmental Protection Agency (EPA) Office of Health Research and managed multiple contracts for EPA and Institutes of the National Institutes of Health (NIH) in biomedical research, health education and communication, and research planning and evaluation. In 1986, she decided to start her own company, NOVA Research Company, in partnership with her husband, who had been conducting federal and commercial health consulting projects for most of the previous decade. Since then, she has managed numerous contracts for NIH clients, along with overseeing day-to-day NOVA operations. Peggy served as Project Director (PD) for NOVA's NCI Consolidated Support Services contract for more than 10 years, managing multiple task order awards across NCI. She has been PD for multifaceted support contracts for the NCI Center to Reduce Cancer Health Disparities (CRCHD) since 1996, providing services geared to research, training, and evaluation in health disparities. Peggy has managed numerous contracts focusing on diverse populations. She was Principal Investigator (PI) for the Women Helping to Empower and Enhance Lives project, a women's health study and prevention project that encompassed sites nationwide, and for NOVA's project on AIDS Prevention Among Female Sexual Partners of Injection Drug Users. She also served as Co-PI for NOVA's project as National Data Coordination and Evaluation Resource Center on AIDS for the National Institute on Drug Abuse's (NIDA's) National AIDS Demonstration Research (NADR) Project, operating in over 60 cities.
Outside of NOVA, Peggy enjoys cooking and baking, hiking, music, and spending quality time with her family.